Geocaching is an app that opens up a world to mysterious treasures. People leave "caches" hidden in many places, and the lets you find where they are. It's often a good way to find hidden secrets, and sometimes you have no idea what you might stumble across.
1
---
On one not-so-cold Saturday in Knocklyon, we were trying to plan our day. We decided that a treasure hunt might be a fun way to start the morning, and so I found a nearby cache and we set off. It was close to us, but it still took us a while to walk there. We were distracted by another cache on the way, which turned out not to be there any more. This happens sometimes – a cache gets lost, stolen, or otherwise destroyed and needs replacing.
We followed the in-app GPS through Orlagh and out the other side. We were now on a country road with no paths. It seemed like there was nothing out here, but after a short trek along the road we found it.
2
---
Saint Colmcille is one of three patron saints of Ireland, the others being Patrick and Brigid. It is told that he is responsible for spreading Christianity in Scotland. At one point during his time in Ireland, he stopped at this well to quench his thirst. He then blessed the well before he moved on.
In the early 20th century, a priest noticed that a local postman would stop at the well during his rounds. in response, the priest built a shrine dedicated to the saint. To this day there is a pilgrimage to the well on the 9th of June, Saint Colmcille's Feast Day.
It starts from the Supervalu car park in Knocklyon.
3
---
On our way inside, the first thing we notice is a recently planted Tree of Hope, planted in dedication to those affected by suicide or struggling with mental health. Given my recent struggles, it's nice to be reminded that people really do care.
Along the path to the well and shrine there is a small plaque giving an account of the devotion to the well. Unfortunately weather hasn't been too kind to this small piece of history.
On the opposite side there is a field with a cross at its center. I don't know why this cross was here, and it seemed like private land so I didn't want to risk trespassing for a closer look.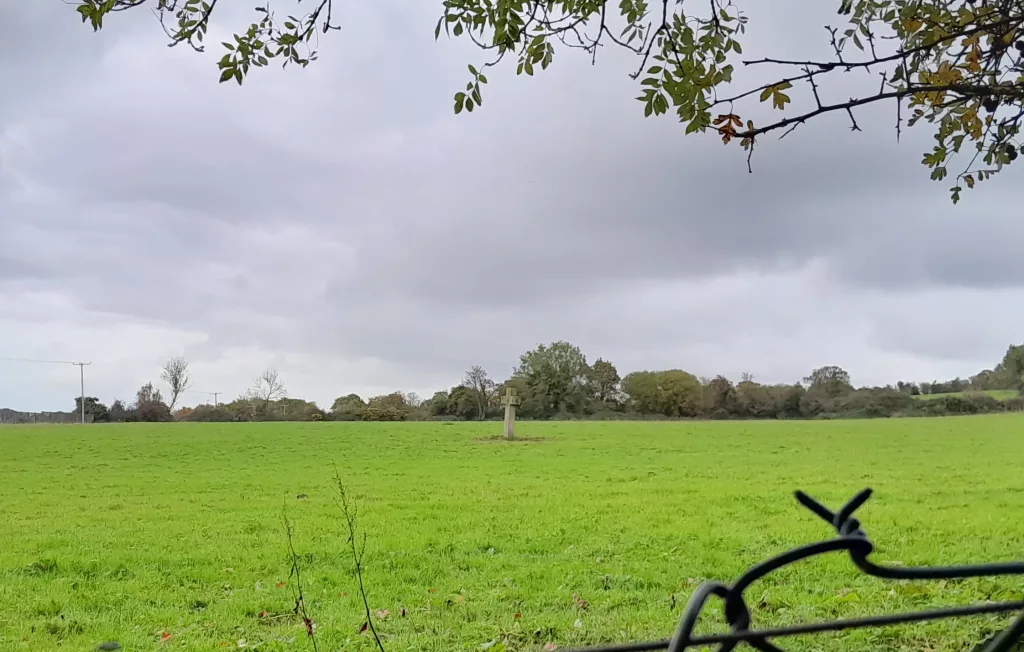 Just before the shrine there is a tombstone erected in dedication to Thomas McDonagh and Martin Cawley. I couldn't find any information on them, but the fact they died on the same date indicates it was a tragic death.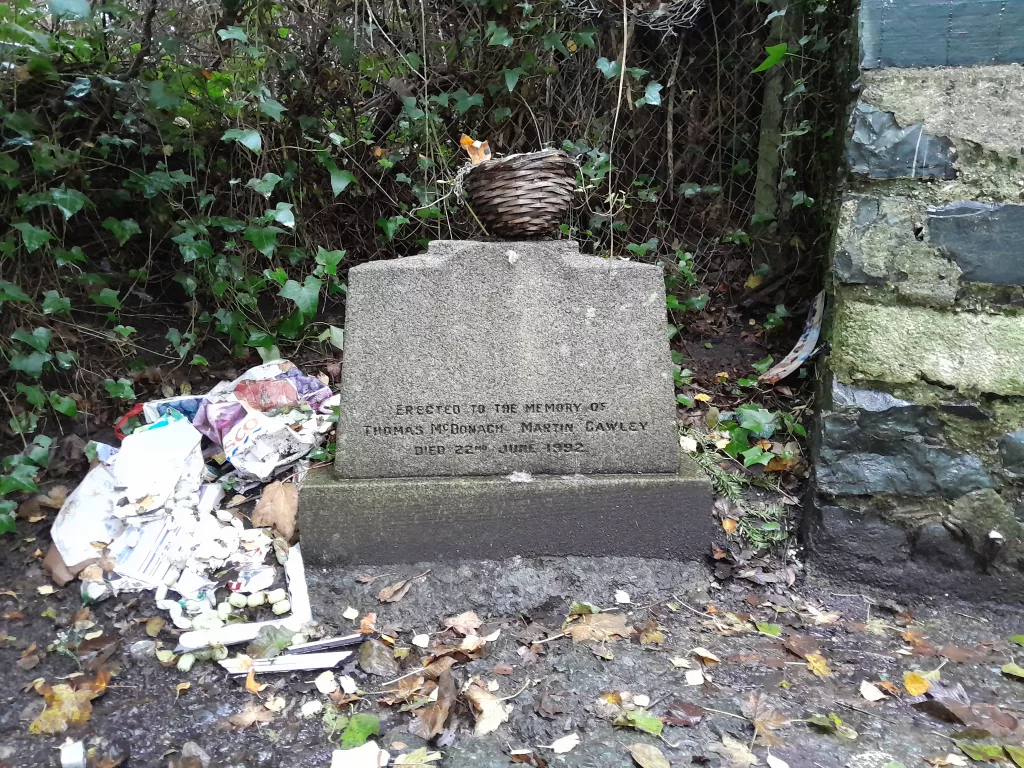 The shrine itself is protected with a gate now, on which people have hanged memoirs of their loved ones. The well can still be accessed below, but I'm not sure I would drink from it today.
We spent some time searching the area and eventually found the Geocache (I won't spoil where it is). We signed the logbook and rested a while before our trek back home.
Oh! On our way back we met a horse!
4
---
It turns out this isn't the only well dedicated to Saint Colmcille. There are many dotted all over Ireland. Maeth, Sligo, Moville, Edmondstown, and many other places. Saint Colmcille was a thirsty saint, it seems.
The gamer in me is wanting to turn this into a challenge. Can I visit all the wells in Ireland that bear the Saint's name?